Minna Elina Heinonen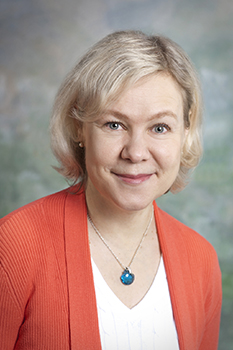 Health and wellbeing are an endless source of inspiration to me. I feel, that our life is an interesting journey with different phases. Sometimes journeying is slower, or more difficult, however Life always supports us, if we just allow it.
My Reiki path began in. 2003 and I can clearly state my life before Reiki and life after Reiki. For me Reiki is a way of life and a very good way it is indeed. It gives so much joy of life, balance, harmony, piece of mind as well as strengthening life force, energy and vitality. Reiki is very useful in everyday life and it opens new creative doors to us. It is very easy to learn, and it is for everybody. Your inner power increases and you know in a clear way the solutions as your mind is more peaceful. Reiki is a good solid basis, on to which one can build, and it helps us to flourish.
In. 2014 I became MB Life Coach and thereafter MB Master Coach. My inspiring teacher was Marika Borg. One of the main goals of coaching is to get to know oneself better, to know our guiding light. Life is a gift, with a hidden treasure inside. Our goal is to find that hidden treasure, no one else can do it for us. "A wise person knows her/himself," as Laotse wisely said.
With all my heart I welcome you to my Reiki classes, coaching sessions or Reiki treatments. When continuously taking even small baby steps, to the same direction with conscious joyful and lovely feelings, what a miraculous way, to realize one's dreams
With love

M.Sc. (Econ.)
Reiki Teacher, Light Ascension Reiki Master
Reiki Teacher, Reiki Master the Reiki Network
Reiki Diplomiterapeutti®, Member of CAM ry:Complementary and Alternative Modalities
MB-Elämäntaidon Valmentaja® , MB Master Coach
Theta Healing® DNA Advance Practioner, Theta Healing® Dig Deeper Practioner